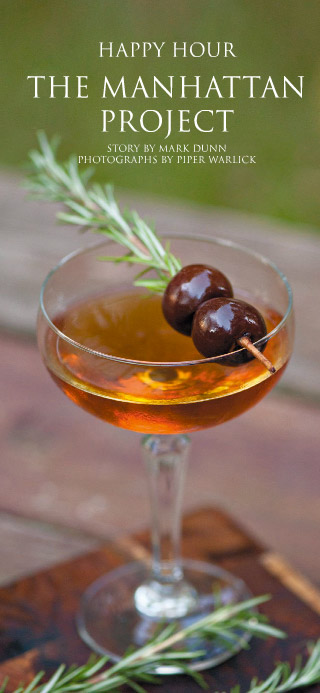 Mark Dunn spends an October afternoon with mixologist Bob Peters preparing his duck fat and rosemary washed bourbon Manhattan.
On a beautiful weekend day in October, Bob shows up at my house bearing the tools of his trade. Among these are the rub of chilled duck fat and a bag of rosemary stems. I hand him my cast-iron skillet and he gets to work, first melting the duck fat, then adding a generous sprinkling of rosemary. The rosemary crackles in the fat as its oils seep out. I keep finding myself standing over the pan, letting the smell waft toward my nose.
If you're in the mood for a cocktail that warms the belly and the should, try this one out. Ask him for the Manhattan Project or just tell him to surprise you. Any way you go, you can't lose.
Photography: Piper Warlick
Gallery