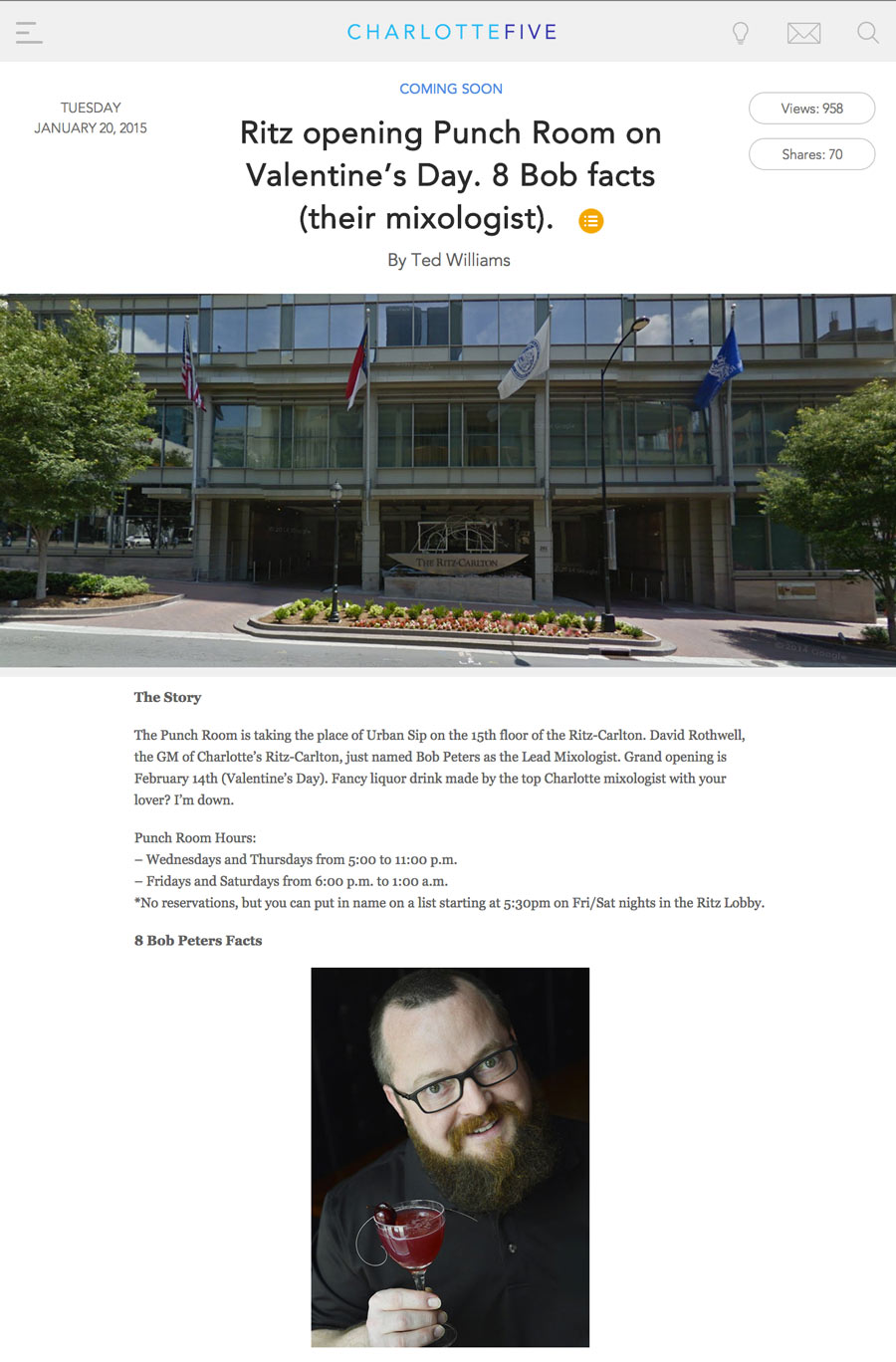 Ted Williams, of CHARLOTTEFIVE discusses the Ritz Charlotte's opening of the Punch Room with Bob Peters named as the lead mixologist. Ted shares 8 facts about Bob, as well as his history and influence.
The Punch Room is taking the place of Urban Sip on the 15th floor of the Ritz-Carlton. David Rothwell, the GM of Charlotte's Ritz-Carlton, just named Bob Peters as the Lead Mixologist. Grand opening is February 14th (Valentine's Day). Fancy liquor drink made by the top Charlotte mixologist with your lover? I'm down.
Punch Room Hours:
– Wednesdays and Thursdays from 5:00 to 11:00 p.m.
– Fridays and Saturdays from 6:00 p.m. to 1:00 a.m.
*No reservations, but you can put in name on a list starting at 5:30pm on Fri/Sat nights in the Ritz Lobby.
Quotes
"With an inspired mixologist like Bob Peters leading the charge, The Punch Room team looks forward to redefining Charlotte's beverage experience. Bob's expertise and stature on the cocktail scene will bring a savvy and sophisticated audience to The Punch Room, and his engaging personality has already attracted an exceptional following throughout the Carolinas." – Ritz GM David Rothwell.
C5's Take
"Secret punch recipes. Ritz Carlton fanciness. On-site cocktail carbonator. Bob working the drinks. We're in."