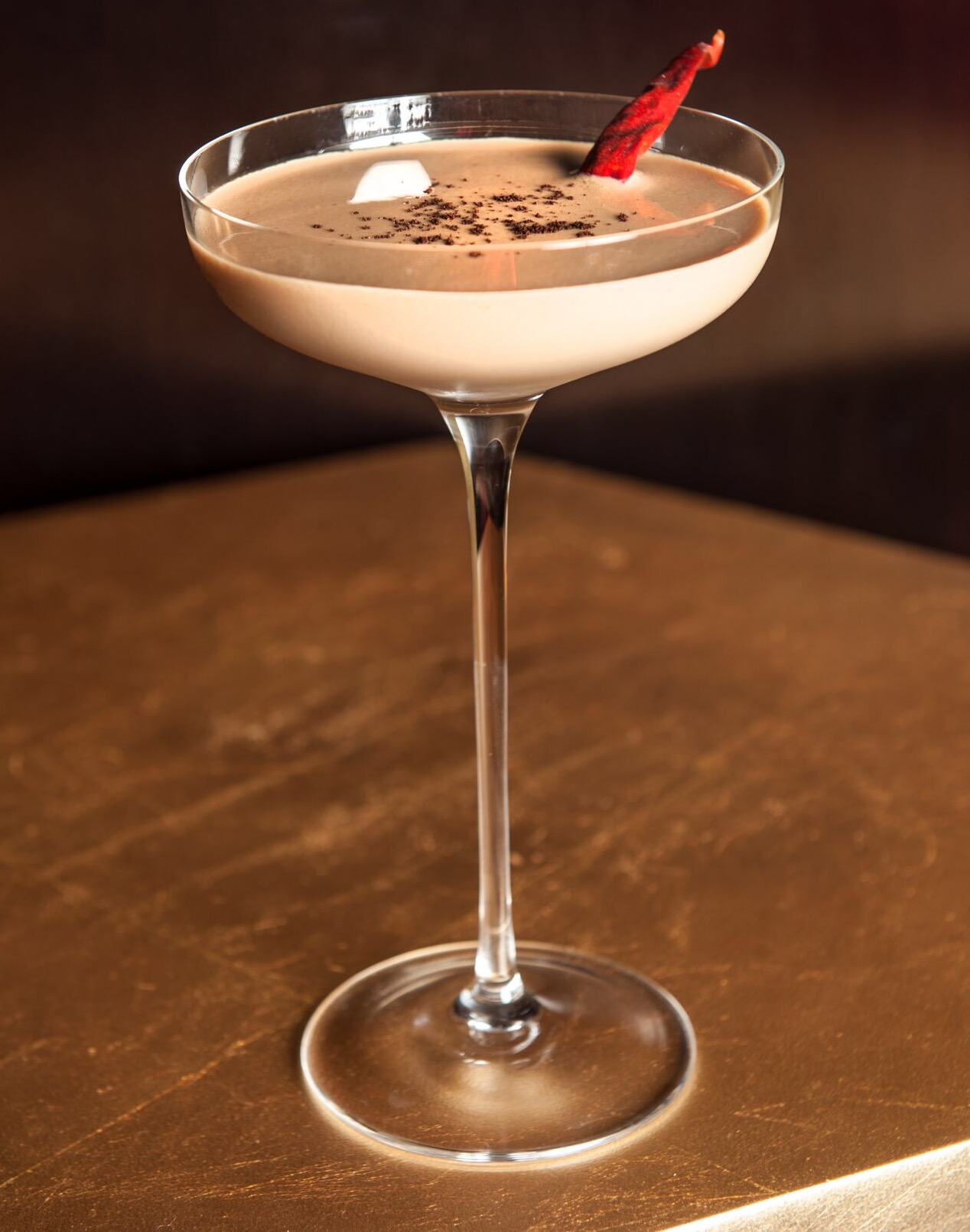 Ingredients
2 Dried Arbol Peppers
2 oz of Vida Mezcal
.75 oz of Fernet Branca
2 oz of Damn Fine Mocha Liqueur (NC Product)
Sprinkle of Espresso Powder
Instructions
Instructions:
Add one dried arbor pepper to cocktail shaker and muddle thoroughly.
Add ice as well as all the spirits.
Shake and double strain into coupe glass.
Garnish with sprinkle of espresso powder and one dried arbor pepper.
Enjoy!
Occasionally, when I am working at the bar, I will get a request for the often dreaded Chocolate Martini. Don't get me wrong, I love a great desert drink once every hundred years, however back in the early 2000's I made a million Chocolate Martinis. Literally, one million. This request got me thinking about how to update this age old drink. You know, transforming the desert martini. (Cue the make-over music) My brain began to scheme. How do I convert this demanded beverage from candy sweet to: more sophisticated, more adult, and way less sugary all while still satisfying a serious chocolate craving in a glass? I became obsessed.
I am a huge believer of supporting local whenever possible. I begin my quest for the new and improved chocolate cocktail with using a spectacular spirit from the Durham Distillery called "Damn Fine Mocha Liqueur". The distillery is located in Durham, North Carolina, just two short hours away from my hometown of Charlotte. Damn Fine Mocha Liqueur is an exceptionally silky liqueur made from real chocolate, cream, and locally made cold-brew coffee. It is perfect for the starting point for what I require.
The remaining ingredients fell into place quite naturally. Vida Mezcal is added for smokiness and for some umph. Fernet Branca (made with 27 herbs and ingredients) contributes an incredible depth of flavor and brings a beautiful bitterness to the recipe. Lastly, muddling some dried arbol pepper is the perfect finish and incorporates just a touch of heat.
The end result is astonishing! I call it "27 and Damn Fine": An extremely well balanced, smokey, slightly spicy, dark chocolate cocktail that will fulfill your craving as well as your entice taste buds.
Cheers!